One of my favorite parts of writing Zeroboxer was envisioning and depicting the sport of zeroboxing. How would a combat sport work in the absence of gravity? Check out what these martial artists and fighters have to say about it.
Getting as excited as those guys?
That's not all. To celebrate my birthday today, and the fact that Zeroboxer hits shelves in less than a month, I'm offering up a pack of science fiction and fantasy books from my publisher, Flux.
It includes an advance reader copy of Zeroboxer, as well as The Oathbreaker's Shadow by Amy McCulloch, Wordless by AdriAnne Strickland, Insomnia by J.R. Johansson, The Culling by Steven dos Santos and Backward Glass by David Lomax.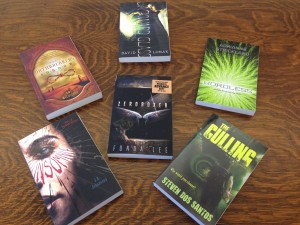 Just enter the raffle below for a chance to win.
Giveaway runs through March 17. Limited to the US and Canada.